Order Online

Traditional & Fusion
WE CARE!

Practice Physical Distancing

We will call you 15 minutes before your order is ready for pick up.

We are offering curb side pickup for all orders.
We also have alcoholic beverages available for takeout.*
Please request over the phone or in the special instructions section


Our menu is the perfect combination and balance of Japanese and Thai cuisines

To YOU - our family, We are lucky to have the opportunity to serve this community for years. In light of the recent novel coronavirus developments, we know your normal routine can feel overwhelming. We will remain open and try to make this time feel as normal as possible for you. We assure you that our team is taking every precaution to keep our customers and staff safe. We are following the guidelines from Pasadena Public Health Department and the State of California. Our menu continues to be available through obasushi.comfor pickup orders. Delivery orders can be made via Doordash and Postmates platform. The same standard and care of in-house service goes into preparing your take out orders. Our thoughts are with those near and far who have been impacted. We wish all of you good health through these times.

Thank you,
Oba Family

* = Alcoholic beverages that are packaged by this establishment are open containers and may not be transported in a motor vehicle except in the vehicle's trunk; or, if there is no trunk, the container may be kept in some other area of the vehicle that is not normally occupied by the driver or passengers (which does not include a utility compartment or glove compartment (Vehicle Code section 23225)).  Further, such beverages may not be consumed in public or in any other area where open containers are prohibited by law.
---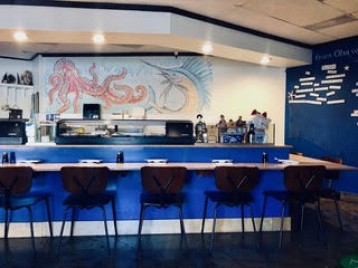 Popular Dishes
---
Crispy Rice

Crispy fried sushi rice topped with spicy tuna or crab mixed; drizzled with spicy mayo, sweet eel sauce & green onion

$7.75

Richie Rich Roll

Inside - house special spicy tuna mix, sesame seeds Top - tuna, yellowtail, avocado, lemon rind, chili ponzu sauce & green onion

$16.50

Tempura Entree

Shrimp & vegetables tempura served with soup, salad & white rice

$17.50

Omakase Dinner

Seasonal fish (sushi & sashimi)

$38.00

Eggplant Miso

Skinless eggplant sautéed with homemade miso paste sauce

$6.95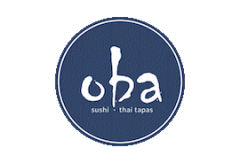 About Oba Sushi Thai Tapas
---
We offer traditional and fusion sushi, sashimi & rolls including seasonal selections from Japan. Our menu features Japanese and Thai entrees and small plates as well as Japanese premium sake, beer, whiskey and cocktails. Our team has worked together for many years at various restaurants and are dedicated to providing great food and attentive service at a reasonable price.
Her-story. His-story.
Kunche was a manager of a successful Japanese restaurant, while Alfonso was assistant to dozens of Japanese sushi chefs. They both could not be promoted. Kunche for her gender and Alfonso for his race. They decided to break the glass ceiling by teaming up and bringing you Oba Sushi and Thai Tapas.
Cuisines: Japanese, Thai
Serving: Pasadena

Contact Us
Send us a message and we will get right back to you.
---